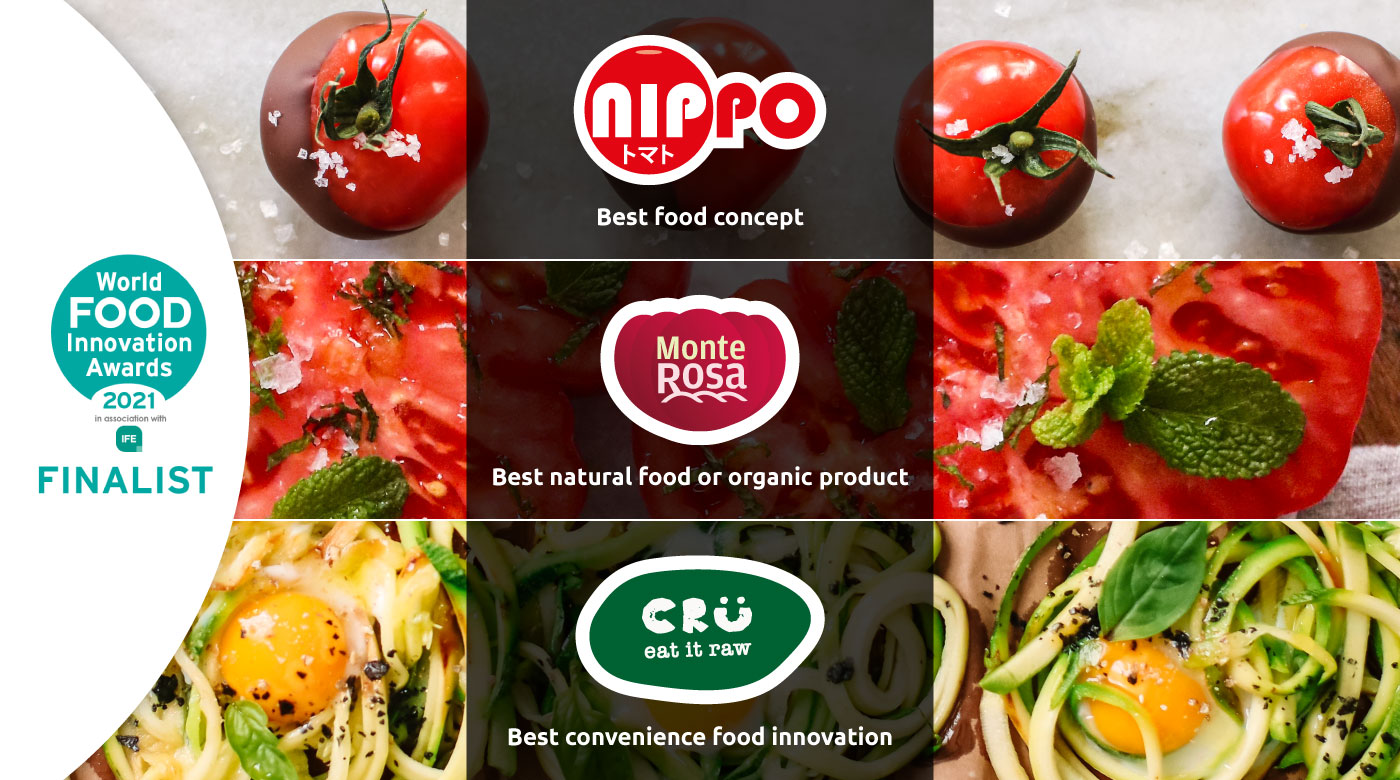 Monterosa, Nippo and Crü, finalists at the World Food Innovation Awards
24/02/2021
Monterosa, Nippo and Crü, the specialties of tomato and courgette created by Semillas Fitó, have been nominated in the World Food Innovation Awards in the categories of Best natural food or organic product, Best food concept and Best convenience food innovation, respectively.
These awards, organized by FoodBev Media in collaboration with IFE, have been celebrating innovation and excellence in the global food industry for more than ten years and are internationally recognized as the most credible and influential awards in the food and beverage industry.
The Monterosa tomato is a new tomato brand that was born both out of the passion for the Mediterranean diet and out of a commitment to recover the traditional tomatoes of the past, and is produced both in conventional and organic farming. On the outside, the Monterosa is an asymmetrical and ribbed tomato, with velvety skin and very striking sepals, giving it an exuberant and voluptuous appearance. The Monterosa gives off a characteristic herbaceous aroma and is known for its sweetness and fruity finish. Its intense flavor of garden tomato makes it the perfect ingredient for those dishes which are characterized by the delicacy and simplicity of natural ingredients. All this while offering the usual attributes of the tomato that most enrich the Mediterranean diet.
Nippo is a totally new concept of melting tomato that did not exist until now, with an exceptional flavor and texture. This special cherry-shaped variety has an especially pleasant appearance and texture, exceptionally fine and shiny skin and a soft pulp that explodes in the mouth leaving a juicy and intense fruity, very sweet and Umami flavor. Nippo achieves a complete sensory experience for the consumer and is recommended by some of the best chefs today. Ferran Adrià claims that "with Nippo I have discovered the pleasure of eating a tomato with an almost invisible skin, melting texture and a sweet flavor that is both intense and deep".
CRÜ is a new courgette ideal for eating raw. CRÜ is easily recognizable thanks to its mottled skin and attractive green color, followed by a smooth taste with no bitterness. Hardy and with a long post-harvest performance, CRÜ maintains its fresh appearance longer than other courgette varieties, with great appeal therefore to today's consumers who are increasingly more heath conscious in their attempt to achieve a happy, healthy and balanced lifestyle. CRÜ is loved by raw food vegetarians, flexitarians, and vegans as it is perfect for making fun, fresh and healthy recipes. CRÜ is packed with nutritional properties which it maintains 100% when eaten raw. Something, eaten raw, is not the same thing.
The winners in each of the categories will be announced during a virtual awards ceremony on Tuesday, 23 March at 4 pm CET, broadcast live on the FoodBev Media YouTube channel.
CONTACT US
Check our worldwide sales network
Central office
Selva de Mar 111 08019 Barcelona España
Tel.: 93 303 63 60 · Fax: 93 303 63 73