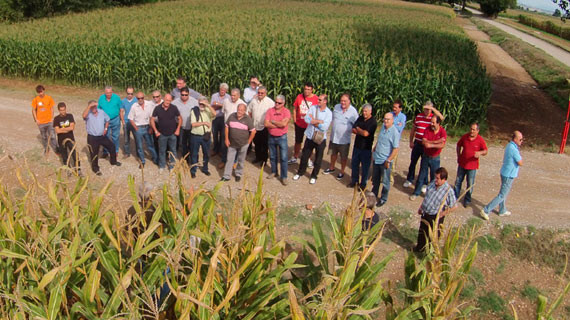 FARMERS' VISIT TO BARBENS
15/09/2014
Farmers' visit to Barbens

A total of 400 clients from Aragón and Catalonia (distributors, large farms and farmers) have visited the Finca Les Cases de Barbens during the months of September and October. All were impressed by the construction progress of the new warehouse and processing centre, confirming that there it will shortly be operational.  

After visiting the construction site, the groups also toured the farm's corn fields. There they inspected the R&D fields (more than 700 new varieties undergoing testing), different tests of irrigation systems (drip, sprinkler, etc.), crop density, planting times, resistance to water stress and demonstration fields of the successful Fitó Agricultural Irrigation and Fertilisation Solutions.

Later, visitors saw the demonstration fields of commercial varieties, where they were able to witness the great potential of varieties POBOA YG, BOLEA YG, LERMA, TAMPA YG and SAGUNTO, as well as the new varieties that will be available for the next seasons.
CONTACT US
Check our worldwide sales network
Central office
Selva de Mar 111 08019 Barcelona España
Tel.: 93 303 63 60 · Fax: 93 303 63 73