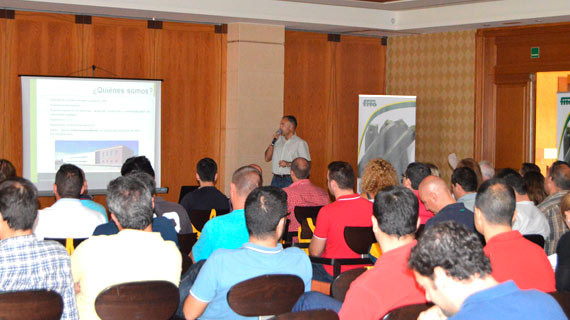 CONFERENCE ON COURGETTE CROP MANAGEMENT
29/10/2014
Conference on courgette crop management

On Wednesday, October 29, 97 guests attended the Courgette Day we organised at the Envía Almería Hotel.

The main objective was to present some of our varieties and offer detailed information on how to handle the Atlantis courgette, offering practical tips on how to get the most out of its virtues and avoid potential crop problems. After a brief corporate introduction given by our Almería Area Manager, Fco. Javier Rodríguez Usero, three presentations were prepared from three different viewpoints: "Methods for improving courgette at Semillas Fitó" by Santiago Garcçoa (courgette breeder), "The courgette in Spain: distribution by area and type of crop" by Nicolás Sánchez (sales technician in Murcia, Valencia and the Canary Islands), and "Handling the Atlantis courgette" by Germán Victoria (sales technician in Almería - Roquetas).

The conference demonstrated that we have a vast range of courgette to meet the demands of different markets.
CONTACT US
Check our worldwide sales network
Central office
Selva de Mar 111 08019 Barcelona España
Tel.: 93 303 63 60 · Fax: 93 303 63 73